I'm unapologetically Black. Like crab chips and crab sticks with tartar sauce from the Chinese spot, Black. But Beyonce got me feeling real, real Black right now. Like Dead Mike in CB4, "Awwww, cause I'm Black y'all," Black. So Black, I'm switching from Spotify to TIDAL because Jay Z owns it and he's Black, Black.
Again Beyonce? Again? You gon' just stop the world on a Sunday — the Lord's day. You just gon' drop 'Formation' in the middle of Black History Month? During the same weekend as the NAACP Image Awards? The weekend Trayvon Martin would have turned 21? Sandra Bland's birthday weekend? You just gon' storm the Whitest White band, Coldplay's, Halftime Show with an army of Black dancers wearing Black panther uniforms? When Cam Newton's fine Black a** is playing in the Super Bowl against the Denver Bronco's White messiah Peyton Manning (he's reportedly retiring for goodness sake).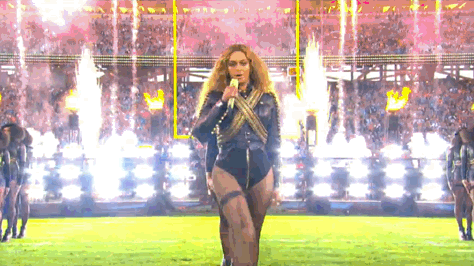 Between the release of Bey's politically charged 'Formation' visuals to her uber Black performance at the Super Bowl, I feel like Kanye in the heat of a rant against the racist fashion industry. *Throws kente cloth in the air*
Beyonce's 'Formation' is the Blackest thing to hit the net since Viola Davis got her kitchen combed on HTGAWM.

"I like my wide nose and Jackson 5 nostrils," she shamelessly sings on 'Formation,' silencing haters, who relentlessly drag her husband Jay Z's appearance. It don't get no Blacker than Michael Jackson's original nose.
SB: I'm in the mirror like this.
Let's examine some of 'Formation's' Blackest moments:
1. "I like my baby hair, with baby hair and afros. I like my Negro nose with Jackson Five nostrils."

2. I got hot sauce in my bag, swag.
Everything tastes better with Franks Red Hot.
3. When he f*ck me good I take his ass to Red Lobster, cause I slay.

4. Drop him off at the mall, let him buy some J's, let him shop up, cause I slay.
5. This Ode to #BlackLivesMatter
Black like Kendrick Lamar, Usher, Swizz Beatz and Jay Z in the same damn place at the same damn time.
Beyonce is the biggest entertainer in the world right now and I couldn't be prouder to be a Black woman, with her as my leader. I will follow you Beyonce. I am in formation.
*Takes a breath* OK. Who's ready to march?
RELATED STORIES:
Beyonce Didn't Almost Fall: The Internet Reacts To Queen Bey's Super Bowl Performance
#ISlay: Beyonce Shocks The World Into 'Formation'
Beyonce's Website Crashes After EPIC Super Bowl 50 Performance
Beyonce Got Me Feeling Real, Real Black  was originally published on hellobeautiful.com