23 Life Hacks That You'll Never Want To Live Without  was originally published on hellobeautiful.com
1. HACKED!
2. Shucking That Corn…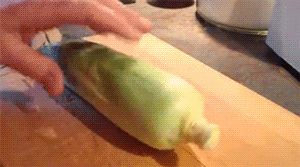 3. Never Open A Jar The Same Way Again…
4. Like Your Wine Cold, But Not Watered Down?
5. Smelly Shoes?
6. The zipper on your pants won't stay up…
7. Have a hard time peeling eggs?
8. Have a hard time cutting grapes or grape tomatoes?
9. Does your boiling water always bubble over…
10. Hate peeling potatoes?
11. When microwaving your food…
12. Grilled Cheese Cooks Evenly…