Meghan Markle is living the glamorous life as the wife to Prince Harry. However, her trifling half-sister Samantha Markle is still suffering from severe desperation and blaming Meghan for every mishap in the Markle family. Now, she claims it is Meghan's fault that their father is sick and even said if he dies Prince Harry's bae is the one who drove him to the grave.
Just trifling.
See Also: UK Royal Wears Blackface Brooch, Offers Lame Apology To Meghan Markle
After seeing Meghan and Harry attend an event in honor of Nelson Mandela, hating Samantha rambled on Twitter, "Glad you have so much time to gallivant around paying tribute to others while ignoring your own father! How cold can you be and look in the mirror? Harry? I guess I was right."  She also wrote, "My father is not an embarrassment for loving his daughter. The royals are an embarrassment for being so cold." Then there is the gem, "If our father dies I'm holding you responsible, Meg!" Samantha is addressing Meghan as if she would actually take the time to read her tweets.
How low can you go to speak of your father's death and then blame your half-sister?
Sadly, Meghan's own father Thomas is publicly attacking her. He said in an interview with The Sun that Meghan isn't happy with Harry, "I think she is terrified. I see it in her eyes, I see it in her face and I see it in her smile." He also added in another interview, "I'm enjoying the fact that I can make the entire royal family not speak and maybe I can get a laugh out of the duchess." Thomas also claims he has heart issues and can "die soon." To be on the verge of death, he sure finds time to babble to tabloids.
Why would Meghan want to talk to this side of her family? She has her mother on her side, who clearly knows if she is happy more than daddy dearest, and she has freedom to leave the Royal Family if she wanted to — plenty of others have done it.
Damn shame. Keep shining, Meghan.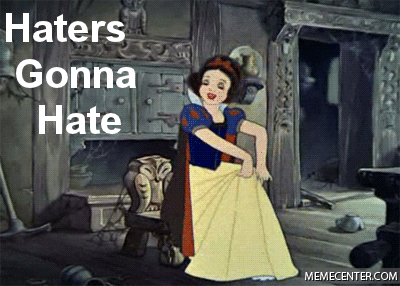 SEE ALSO:
Here's Why NewsOne Won't Be Covering One Iota Of The Royal Wedding
White House Spokeswoman Called 'Uncle Tom' At Correspondents' Dinner
Black Police Officer Shot And Killed In His Home
Activists Protest Racial Profiling, Arrests Of Black People In Starbucks
1. Scenes From The Demonstration Against Racism At Starbucks
Source:Getty
1 of 24
2. Scenes From The Demonstration Against Racism At Starbucks
Source:
2 of 24
3. Scenes From The Demonstration Against Racism At Starbucks
Source:
3 of 24
4. Scenes From The Demonstration Against Racism At Starbucks
Source:Getty
4 of 24
5. Scenes From The Demonstration Against Racism At Starbucks
Source:Getty
5 of 24
6. Scenes From The Demonstration Against Racism At Starbucks
Source:Getty
6 of 24
7. Scenes From The Demonstration Against Racism At Starbucks
Source:
7 of 24
8. Scenes From The Demonstration Against Racism At Starbucks
Source:Getty
8 of 24
9. Scenes From The Demonstration Against Racism At Starbucks
Source:
9 of 24
10. Scenes From The Demonstration Against Racism At Starbucks
Source:
10 of 24
11. Scenes From The Demonstration Against Racism At Starbucks
Source:Getty
11 of 24
12. Scenes From The Demonstration Against Racism At Starbucks
Source:
12 of 24
13. Scenes From The Demonstration Against Racism At Starbucks
Source:Getty
13 of 24
14. Scenes From The Demonstration Against Racism At Starbucks
Source:
14 of 24
15. Scenes From The Demonstration Against Racism At Starbucks
Source:Getty
15 of 24
16. Scenes From The Demonstration Against Racism At Starbucks
Source:
16 of 24
17. Scenes From The Demonstration Against Racism At Starbucks
Source:Getty
17 of 24
18. Scenes From The Demonstration Against Racism At Starbucks
Source:
18 of 24
19. Scenes From The Demonstration Against Racism At Starbucks
Source:
19 of 24
20. Scenes From The Demonstration Against Racism At Starbucks
Source:
20 of 24
21. Scenes From The Demonstration Against Racism At Starbucks
Source:
21 of 24
22. Scenes From The Demonstration Against Racism At Starbucks
Source:
22 of 24
23. Scenes From The Demonstration Against Racism At Starbucks
Source:
23 of 24
24. Scenes From The Demonstration Against Racism At Starbucks
Source:
24 of 24
Meghan Markle's White Side Of Her Family Have Taken Trashy To A New Level  was originally published on newsone.com